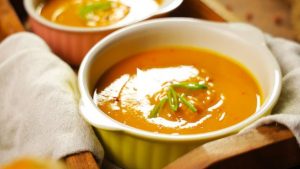 This anti-cancer soup recipe is inspired by Professor Hiroshi Maeda's best-selling book "The strongest vegetable soup" in Japan.
He writes, "One out of every two Japanese people will get cancer, and one in three people will die of cancer. This sounds like a real fear of cancer. Maybe some readers will think: 'Is there really a way to prevent such a terrible cancer just by drinking vegetable soup?'"
"However, I have conducted research and many studies in Japan and abroad. From my research, I should be able to conclude that drinking vegetable soup can indeed prevent cancer," wrote Maeda, world-renowned scientist and 2016 Nobel Prize in Chemistry Nominee.
This soup is so simple and easy to prepare with just four basic ingredients: onion, carrot, pumpkin, and cabbage. It's packed with phytochemicals that can enhance immunity and help fight inflammation in the body. Whether you're wanting to help someone with a cancer diagnosis or just eat as healthy as possible yourself, this comforting soup fits the bill.
Serves: 4
Prep time: 10 minutes
Cook time: 20 minutes
Ingredients:
¼ Onion / 45 g
1 medium Carrot / 40 g
1 medium Shallot / 10 g
1 stick Celery / 25 g
1 tbsp. Olive Oil / 15 ml
2 cloves Garlic
3.5 oz Pumpkin, peeled, seeded and cut into 1-inch cubes / 100g
1/10 head Cabbage, cut into large pieces / 80 g
2½ cup. Water / 600 ml
Optional:
Salt to taste
Black Pepper to taste
Directions:
Prepare your onion by cutting off the ends, peel and cut into bite-sized pieces. Slice carrot, shallot, and celery.
In a medium saucepan, add olive oil, onion, shallot, celery and saute until fragrant. Add pumpkin, garlic, and cabbage, and season with salt and pepper to taste. Add water and bring it to a boil. (Note: Adjust the amount of water to suit your tastes.)
Cover and cook for 15 minutes on medium heat until vegetables soften.
Remove from heat. Serve as is or blend soup with a hand blender until smooth.
https://www.theepochtimes.com/this-nobel-prize-nominees-anti-cancer-soup-helps-patients-gain-additional-30-percent-chance-of-recovery-recipe-video_4756031.html