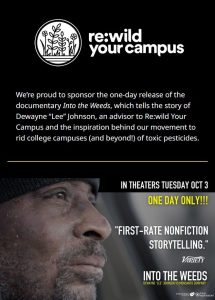 From our Founder
Mackenzie Feldman
Project Director of Re:wild Your Campus
If you don't know Lee Johnson's story, I want to take a minute to explain how important this hero is to our organization.
Back in 2018, Lee Johnson took Monsanto (now Bayer) to court, claiming that his non-Hodgkin lymphoma cancer was caused by Monsanto's herbicide, Ranger® Pro (containing the active ingredient glyphosate) during his time as a groundskeeper when he used the herbicide daily.
I attended many days of the trial, and on the day of the closing arguments, I was moved to tears, and wrote Lee a letter, telling him what an inspiration he is, and how Bridget Gustafson and I were trying to ban herbicides at UC Berkeley. I also told him that many people in my home state of Hawai'i were watching this trial, as Hawai'i is ground zero for pesticide-use and if he wins, there is hope that we can change regulations back home. I handed the note to one of the lawyers sitting in front of me (thanks Michael!) and asked if he could pass it to Lee. On the day of the verdict, after the judge announced that Lee had won the case, I introduced myself to Lee and congratulated him. He said he got my note and he was going to write me back, and that he wanted to get involved in what we were doing. Fast forward to today, and as I write this, I can't stop smiling about all we have done together to advocate for change, and all we will continue to do.
Bridget and I brought Lee to UC Berkeley for a panel shortly after the trial for his first public appearance in the U.S. We worked with the Protect Our Keiki Coalition to bring Lee and his family to Hawai'i, and we got all herbicides banned from every public school in the state! This trial put the issue of pesticides in the public eye, and together we have catalyzed a movement of students and community members wanting to end the spraying of herbicides so that no other groundskeeper, landscaper, or agricultural worker has to go through what Lee Johnson continues to go through.
Lee, you have made a profound impact on my life, and all of our lives at Re:wild Your Campus. With this film, your story will get to impact countless others.
I really hope everyone reading this will join us in seeing the film on Tuesday.
Get tickets to a theater near you!