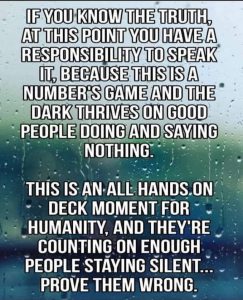 There was a person on Facebook who commented the following under this post, "I speak it and nobody I speak it to wants to hear it. I post it and I'm censored and shadow banned."
I replied, "Keep speaking your truth Eileen, you do not always know who reads your posts then goes away and thinks about them or who sees another post corroborating it and changes their view based on multiple exposures.
I read many years ago from marketing materials that it took 6 exposures of a message to get through to people.
In the intervening 50 years I cannot imagine it now takes fewer, probably many more."