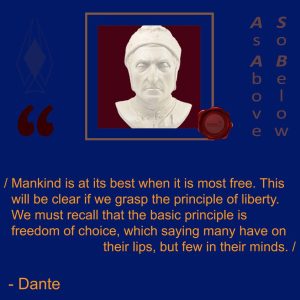 "Mankind is at its best when it is most free. This will be clear if we grasp the principle of liberty. We must recall that the basic principle is freedom of choice, which saying many have on their lips, but few in their minds."
.
"Dante Alighieri, probably baptized Durante di Alighiero degli Alighieri and often referred to simply as Dante, was an Italian poet, writer and philosopher. His Divine Comedy, originally called Comedìa and later christened Divina by Giovanni Boccaccio, is widely considered one of the most important poems of the Middle Ages and the greatest literary work in the Italian language. Dante is known for establishing the use of the vernacular in literature at a time when most poetry was written in Latin, which was accessible only to the most educated readers. His De vulgari eloquentia was one of the first scholarly defenses of the vernacular. His use of the Tuscan dialect for works such as The New Life and Divine Comedy helped establish the modern-day standardized Italian language. His work set a precedent that important Italian writers such as Petrarch and Boccaccio would later follow. Dante was instrumental in establishing the literature of Italy."
W
Born: c. 1265, Florence, Republic of Florence
Died: September 14, 1321, (aged c. 56), Ravenna, Papal States
Resting place: Tomb of Dante
Occupation: Statesman, poet, language theorist, political theorist
Language: Italian, Tuscan, Latin
Nationality: Florentine
Period: Late Middle Ages
Literary movement: Dolce Stil Novo
Notable works: Divine Comedy
.
Dante Alighieri (2009). "On World-Government Or de Monarchia", Wildside Press LLC