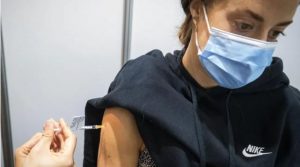 Here is another instance why:
"18 year old Camilla Canepa received the first dose on May 25. She checked into the emergency room on June 3, complaining of severe headaches and extreme light sensitivity. A CT scan and neurological tests found nothing, so doctors discharged her with an order to return in 15 days for further tests. But she returned to the ER just two days later, now suffering from paralysis.
Camilla was diagnosed with cavernous sinus thrombosis, meaning a blood clot in the space between the eye sockets and brain. It blocked the primary vein between the head and heart. Doctors also discovered that she was bleeding inside her brain. She underwent two surgeries, one to remove the blood clot and the second to relieve pressure in her head caused by the bleeding. But the damage was too great to overcome.
Camilla passed away on June 10. Trust the $cience."
https://www.news.com.au/world/coronavirus/health/astrazeneca-vaccine-should-now-only-be-given-to-those-aged-60-and-above-atagi-recommends/news-story/bb5321c5a7ac7880d6b0f7340ba3ac69