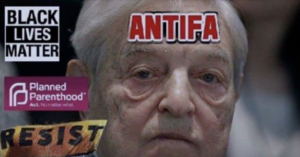 In the city of Poreattle, it was all police lieutenant Eddie Lace's fault. He dreamed up the scheme during the third straight night of riots, in which two citizens were shot and killed, four cops seriously injured, and more than dozen stores torched and burned to the ground.
Eddie had intelligence reports on local Antifa leader, Martin Jackson. He had met with him several times, and knew Jackson had insights into "the new revolution."
So Eddie had four of his men go to Jackson's home, wait for him to return from the burning and looting, and grab him as he was getting out of his car. They brought him to a small cottage on the outskirts of the city.
Guarded by the four men, Jackson sat in the living room, where a hidden camera was already rolling. A live stream was going out online.
Eddie walked into the room and sat down.
"Lieutenant, what am I doing here? Lost your mind?"
Finish the story. It is worth it.
https://www.nexusnewsfeed.com/article/jon-rappoport/an-american-city-is-burning-on-television/