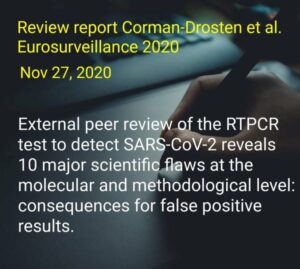 In light of our re-examination of the test protocol to identify SARS-CoV-2 described in the Corman-Drosten paper we have identified concerning errors and inherent fallacies which render the SARS-CoV-2 PCR test useless.
CONCLUSION
The decision as to which test protocols are published and made widely available lies squarely in the hands of Eurosurveillance. A decision to recognise the errors apparent in the Corman-Drosten paper has the benefit to greatly minimise human cost and suffering going forward.
Is it not in the best interest of Eurosurveillance to retract this paper? Our conclusion is clear. In the face of all the tremendous PCR-protocol design flaws and errors described here, we conclude: There is not much of a choice left in the framework of scientific integrity and responsibility.