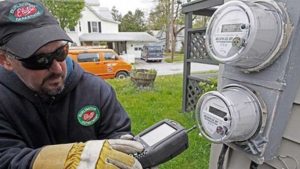 An expert in smart meter microwave transmission power has published new research showing that, contrary to the official government narrative, the radiation emitted from smart meters directly interferes with normal heart function.
To come to this conclusion, Warren Woodward connected himself to an EKG monitor while lying near an Elster smart meter, which was connected to a high-frequency analyzer that measures microwave frequencies.
As it alternated between normal readings of 00.1 and 00.2, a monitor display showed that Woodward's heart patterns were normal and symmetrical. But during times when it spiked to 139.3 – this being the time when the smart meter initiated data transmissions – Woodward's EKG pattern changed dramatically in response.
In other words, when the smart meter was not sending high amounts of power, Woodward's EKG readings were normal and natural. But when it kicked into higher output mode, the changes were "massive."
Brief periods of alteration to normal heart rhythm aren't much to worry about. But when these irregularities are ongoing, the heart can end up working too hard, resulting in fatigued cardiac function.
https://www.newstarget.com/2018-07-25-evidence-is-undeniable-smart-meters-cause-massive-changes-to-the-heart.html