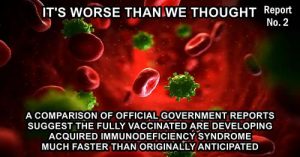 I don't know if you recall a post from a while back by a doctor who said taking the vaccine was like taking a sledgehammer to your immune system? Turns out he was right!
Latest UK Public Health England (PHE) Vaccine Surveillance Report figures on Covid -19 cases show that doubly vaccinated 40-79 year olds have lost 44% of their immune system capability. Their immune systems are deteriorating at around 5% per week (between 3.8% and 9.1%).
If this continues then 30-59 year olds will have zero Covid/viral defence (and perhaps a form of acquired immunodeficiency syndrome) by Christmas and all double vaccinated people over 30 will have completely lost the part of their immune system that tackles Covid-19 by January next year.
The 5 PHE tables below from their excellent Vaccine Surveillance Report of all fully genome sequenced delta cases, separated by 5 weeks, clearly show the progressive damage that the vaccines are doing to the immune system's response. PHE have done so much great work and the picture is very clear.
Here is the weekly decline in doubly vaccinated immune system performance compared to unvaxxed people. Vaccine efficacy is measured using Pfizer's vaccine effectiveness formula…
(Unvaxxed case rate – Vaxxed case rate)/the Larger of Unvaxxed or Vaxxed case rate – We are using the ratio of vaxxed to unvaxxed case numbers to determine vaccine efficiency just as Pfizer itself does.
Everybody over 30 will have lost 100% of their entire immune capability (certainly for Covid and most likely for viruses and certain cancers – following the evidence from Cole Diagnostics in Idaho and Dr Nathan Thompson) within 16 weeks.
Doubly vaccinated 30-59 year olds will have lost it by Christmas. These people will then have no immune defence to Covid at all. The question then becomes how much of the immune system is involved in defending against Covid? The worst case scenario is that they effectively have full blown AIDS and destroy the NHS.
It gets worse – A comparison of official Government reports suggest the Fully Vaccinated are developing Acquired Immunodeficiency Syndrome much faster than anticipated