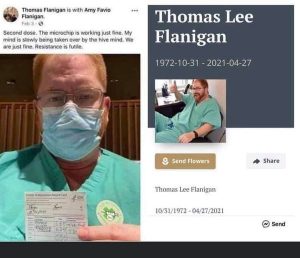 A 48-year-old plastic surgeon is dead in a story that demonstrates the limitless levels of surrealism when it comes to these experimental shots and government/media narratives.
Dr. Thomas Flanigan received the first dose of experimental Moderna mRNA on January 6, according to his Facebook page. He received the second dose on February 3.
Sometime thereafter (it's unclear exactly when), he wrote his own obituary, in the same mocking fashion as the foregoing Facebook post. It is reminiscent of the Polish doctor we wrote about in February. But the surrealism surrounding this story is unmatched compared to any other story we've written thus far.
First, none of the media outlets that covered this story (except the New York Post) mentioned that Dr. Flanigan received experimental Moderna mRNA shots in January and February. However, the Post, like the other outlets, wrote that his cause of death is "not clear." Second, the headlines are practically celebrating his death, perhaps in an attempt to deflect attention away from the Moderna shots.
Here are some excerpts from the obituary:
Well, that's it. I have completed my shift as the great American cliché. In the spirit of what turned out to be my last New Year's letter, my wild and crazy life has again taken a new, unexpected turn with my shocking and unexpected, yet fabulous, exit. Yes, I have joined the likes of Princess Diana, John Belushi, and Steve Irwin the Crocodile Hunter in leaving while still at the top of my game as an iconic superhero who seemed almost too good to be true.
I will admit that I originally got married for the husband jokes and had kids for the dad jokes. It did not disappoint. The jokes I mean, but Amy and the kids were pretty good too.
I know it's impossible to believe, but I, the Ginger God of Surgery and Shenanigans, have fought my last cow (you're welcome Tim) and ridden off into the glorious sunset after re-enlisting with a new unit. Due to the unknown and cosmic nature of my next mission, this will be our last communication. My whereabouts are now top secret, but let's just say I have made some new friends by the names of Elvis and Kenny.
(Tom: Slightly disappointing that he either did not draw the link between his shots and death or was not courageous enough to warn others of the dangers. Or, of course it could just be a coincidence. Just like the other 4,177 Americans, 1,047 Brits and 8,430 Europeans who died shortly after receiving their COVID shot. Over 13,000 coincidences. That's a lot of coincidences!)