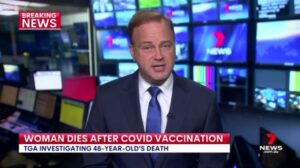 A woman in her 40s has died after receiving the coronavirus vaccine.
The 48-year-old from the New South Wales Central Coast was hospitalised and died on Wednesday after being given the vaccine last Friday.
Watch the video above for further details on the incident
There were unconfirmed reports she suffered from blood clots after receiving the jab.
She is also believed to have been diabetic.