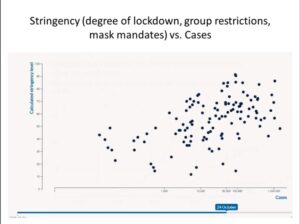 More stingent government restriction measures (masks, quotas, lockdowns) DO NOT result in lower COVID transmission.
Ep103 – Reid Sheftall MD – Comprehensively Decoding the Viral Issue, Pt 1 of 2
Our governments are operating in an unscientific, medieval superstitious mentality that is destructive in the extreme. The fact that this scientist (and others) who are looking at the actual data are ignored, discredited and attacked is evidence of the fact that the media and government are adhering to a scripted narrative that is not in our best interests.
Time to reject their plan for our suppression and reject their illegal measures.