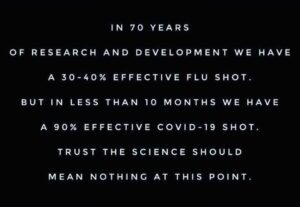 James Lyons-Weiler, PhD says,
As an expert in translational research failure, I'm almost ready to call this one a dismal failure.
Just look at the data on how they conducted the translational research:
(1) Skipped animal studies to test for #PathogenicPriming leading to disease enhancement.
(2) Combined Phased 2/3 trials.
(3) Conducted early (absolutely) unethical "results peeking"
(4) Made unwarranted conclusions from initial, woefully underpowered results.
(5) Starting calling for prison sentences for anyone who dare question the safety of their vaccines – before any credible data existed on the safety of their vaccines.
This is 100% proof that vaccine safety science on COVID19 vaccines is fraudulent.
Makes one wonder who should be imprisoned: the victims or the fraudsters?
REMEMBER – YOUR IMMUNE SYSTEM IS 99.9% EFFECTIVE AGAINST COVID-19.
Absolute proof that COVID19 vaccine safety translational research is fraudulent