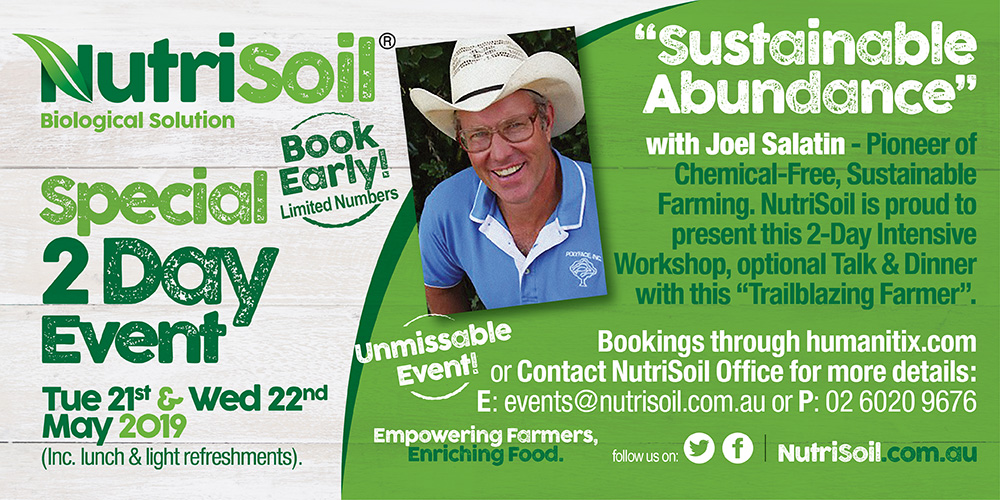 We have Joel Salatin for 2-days, Tuesday 21st & Wednesday 22nd May. Joel is an American farmer and a pioneer of chemical-free sustainable farming, with experience in holistic management methods of animal husbandry on his Polyface Farm in Swoope, Virginia. He has been at the forefront of grass-based farming for 40+ years and written a multitude of books including "Folks, This Ain't Normal"; "You Can Farm"; and "Salad Bar Beef".
The event, "Sustainable Abundance" will also be a celebration of our food producers, of local quality produce and an exposé on how to make farming a profitable enterprise. Bush Goddess Foods will be catering the event, showcasing our region's food at every opportunity. Sustainable Abundance will create a mindscape for farmers and consumers to connect on the essence of growing food with integrity, that heals the land and nourishes the human body.
With a festival feel, the 2-day event will include a #heartyourfarmerdinner and free camping facilities. This will allow attendees to embrace the paradigm-shifting information they will receive from such a revolutionary trailblazer as Joel Salatin.
Click below for online bookings https://events.humanitix.com.au/sustainable-abundance-with-joel-salatin
For more details you can always call us on 02 6020 9676 or email us at E: events@nutrisoil.com.au
Book in early for early bird discounts prior to May 7th to prevent disappointment as this event is tipped to book out!
https://events.humanitix.com.au/sustainable-abundance-with-joel-salatin