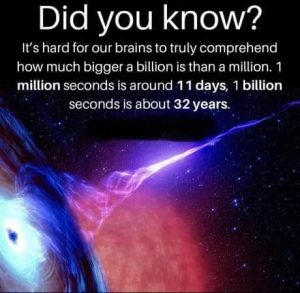 It would have been better had the meme creator used the correct term, mind, rather than brain but hey, who's quibbling?
And you know those trillions they keep referring to in terms of US debt? A trillion seconds is 31,709 years. And I would not want to be hanging by my
thumbs
for even the remaining months!
So if the US government is in debt for a few billion dollars, you could pay that back at a hundred dollars a second and it would still take four or more lifetimes!