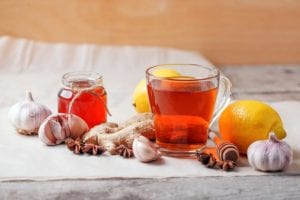 Mums' magical antiviral hot lemonaid is best hot but shouldn't be reheated.
Ingredients
4 cups hot (not boiling) water
¼ cup fresh squeezed lemon juice (or blend the entire flesh of the lemon)
2 Tbsp. raw honey (raw is important!)
½" to 1" fresh ginger root, peeled
¼ cup raw apple cider vinegar (raw is important!)
Cayenne pepper (as much as you can tolerate)
Optional: 2 cloves fresh garlic
Directions
Blend all in a high-power blender. Drink 1 cup at the first symptom of illness, and another cup every 2 hours, or as desired. Do not re-heat the elixir, as this will damage enzymes and nutrients. Drink at room temperature or cold after you refrigerate the remaining portion. It will last a week in the fridge, but you can freeze portions in canning jars for future use.