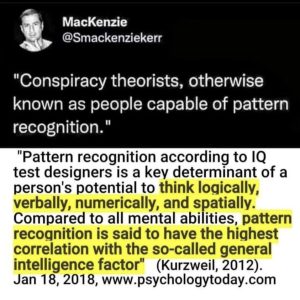 A staple in any intelligence quotient test, pattern recognition has been ridiculed and demonised to push a despotic narrative.
The more we learn, the more depressing and/or enraging it can be, so it's crucial that we develop the mental and emotional resilience needed to keep a positive and determined mindset, and continue to resist the propaganda.
An almost instant fix to feeling down is to go for a walk and look at things until you feel better.