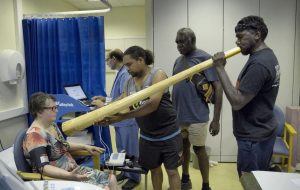 @larrygurruwiwi_and_malawurr play yidaki on cardio vascular patient in Hammersmith Hospital. The healing results were incredible and irrefutable.
Traditionally played as an accompaniment to ceremonial dancing and singing and for solo or recreational purposes, the Yidaki is a wind instrument that produces low frequency sound that we can hear and actual vibrations that we can feel, especially if the end of the instrument is placed close to the body.
The Yidaki can be linked to 'musica universaiis' (music of the spheres), an ancient concept that links celestial bodies of sun, moon and planets as a form of music. Due to its powerful sound vibrations, the yidaki can help listeners enter deep states of relaxation or trance, opening the way for remarkable sound healing that can offer great therapeutic benefits such as muscle/pain relief, improved blood circulation, healing of organs and improved sleeping patterns.
Indigenous medicine works!