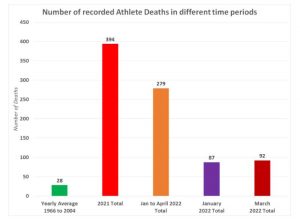 You were instructed to stay at home to protect the healthcare system. But while you did so, hospitals essentially had a holiday, and this is backed up by official data. You were told the answer to everyone's prayers was to get the Covid-19 injection. But now that you have done so, the healthcare system is on the brink of collapse.
Waiting times for ambulances are at an all-time high. The number of emergency calls due to people suffering cardiac arrest is at an all-time high. The number of people dying is at an all-time high, with hundreds of thousands of excess deaths occurring around the world every single week.
And official Government reports prove without a shadow of a doubt that it is all thanks to the Covid-19 vaccines.
https://www.globalresearch.ca/pfizergate-official-government-reports-prove-hundreds-thousands-people-dying-every-single-week-due-covid-19-vaccination/5790262