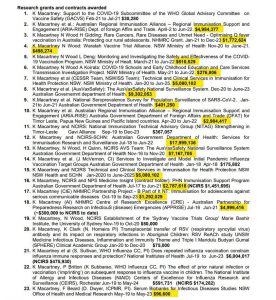 BOMBSHELL REVELATION: From the court filings in the NSW Supreme Court case on mandatory vaccination.
The lead vaccine researchers driving all government policy in Australia received $65,330,038 in government grants covering 2020-2023. Grants of this size are unprecedented.
Remember when Clive Palmer said in a press conference two weeks ago that Gladys Berejiklian was being paid tens of millions of dollars by a lobbyist in Sydney?
Notice that the name "K Macartney" appears next to every single one of the grants. This is referring to Professor Kristine Macartney who is a paediatrician specialising in infectious diseases and vaccinology. She is also a director of the National Centre for Immunisation Research & Surveillance (NCIRS). Most revealingly, she is also a member of the Advisory Committee on Vaccines (ACV) of the Therapeutic Goods Administration (TGA). Yep, the same TGA that BANNED Ivermectin as an early treatment option for treating COVID despite its high efficacy in treating COVID in other countries. Prof Kristine Macartney has also acted as an expert consultant to the World Health Organisation (WHO).
She was also one of the contributing authors of a peer-reviewed paper entitled "Constructing an ethical framework for priority allocation of pandemic vaccines." Read paper here: https://www.sciencedirect.com/science/article/pii/S0264410X20316339?via%3Dihub
Now you know why Ivermectin was banned.
All this is probably an indicator why Prof Kristine Macartney seemed very uncomfortable when she was questioned during yesterdays NSW Supreme Court hearings.
Another point of interest is that many of the grants were applied for and awarded before 2020. Draw your own conclusions from that. And I should add, a lot of the grants are covered until well into 2023. No wonder whenever a state gets near to zero and the end of the state of emergency is in sight, a mystery case pops up and an outbreak occurs.
Now you understand what's driving lockdown policy and vaccine mandates in Australia. The love of money is the root of all evil.