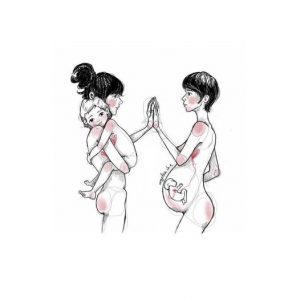 "When I was pregnant with my daughter her cells migrated into my bloodstream and then circled back into hers. For 41 weeks our cells merged and crossed and after she was born these cells stayed in my body, leaving a permanent imprint in my tissues, bones, brain, and skin, and will stay there for decades. ?And every child I have after will leave a similar imprint on my body.
Even if a pregnancy doesn't go to full term or you have an abortion, these cells still migrate into your bloodstream. Research has shown that if a mother's heart is injured, fetal cells will rush to the site of the injury and change into different types of cells that specialize in mending the heart! Studies have also shown cells from a fetus in a mothers brain 18 years after she gave birth!
Mothers have always intuitively felt their child even when they are not there, now there is scientific proof that we carry them for years and years even after we have birthed them. I know my body held and made my daughter, but she too made me. Leaving pieces of herself to forever flow through my body and heal me in ways I am only still trying to understand. Forever grateful for her not only being my teacher but also my healer.
If you're curious to learn more google "Fetal-maternal microchimerism".
Words by Kelsi Ludvigsen
https://www.instagram.com/kelsiludvigsen/
Art by the talented angelica.ch.r
https://instagram.com/angelica.ch.r?igshid=8kwpyzkw1c31
https://www.instagram.com/themotherhoodprojectnz