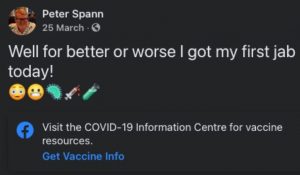 Peter posted: "I am in the 2nd group in Australia to get vaccinated. And you can save your anti-vaccer rhetoric. You are more than entitled to your opinion but I'm happy to get the jab. It's the only way I can see my life being able to go back to anything remotely like normal."
This is unconscionable coercion by state and federal governments to inflict so much harm on a population that people feel forced to take a rush developed, experimental medical treatment for an infection that has the same case mortality rate as the seasonal flu.
Condolences to his loved ones.
Australian Film Maker, Peter Spann Has Passed Away After taking AstraZeneca jab