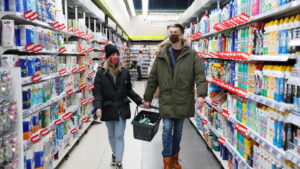 Mark writes: If you need it soon, buy it now. If you need it long term, figure out how to make/grow it.
Remember these choice quotes from Cyberpolygon 2020?
(Hear them in video here: iceagefarmer.com (https://www.iceagefarmer.com/2020/11/15/next-crisis-bigger-than-covid-power-gridfinance-down-wefs-cyber-polygon/) )
Jeremy Jurgens, WEF Managing Director:
"I believe that there will be another crisis. It will be more significant. It will be faster than what we've seen with COVID. The impact will be greater, and as a result the economic and social implications will be even more significant."
Klaus Schwab:
"We all know, but still pay insufficient attention, to the frightening scenario of a comprehensive cyber attack could bring a complete halt to the power supply, transportation, hospital services, our society as a whole. The COVID-19 crisis would be seen in this respect as a small disturbance in comparison to a major cyberattack."
There is a looming cyberattack on supply chains and our food supply. Prepare.
https://www.rt.com/business/521925-commodity-prices-surge-consumers/