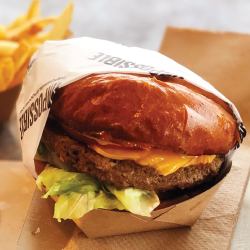 Emperor Gates has a new decree: "All rich countries should move to 100% synthetic beef."
Bill Gates has invested in Impossible Foods whose CEO, Pat Brown, says his genetically engineered synthetic meat substitutes will replace the use of animals by 2035.
You'd think Impossible Foods would focus on the horrors of factory farming. Instead, Gates and Brown take aim at regenerative organic agriculture and grass-fed beef. According to http://Fortune.com:
"Gates and Brown believe that genetically modified seeds and chemical herbicides, in the right doses––and not land-intensive organic farming––are crucial to curbing carbon emissions."
That old lie about organic farming has been thoroughly debunked, and real climate activists know "It's not the cow, it's the how."
But our best argument is what everyone instinctively knows, even before they learn the science: Genetically modified and synthetic Frankenfoods like the Impossible Burger aren't good for us.
https://www.organicconsumers.org/bytes/biodemocracy-or-biofascism