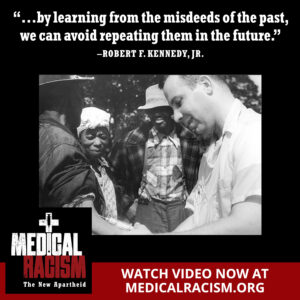 While many are familiar with the medical atrocities at Tuskegee and the shocking experiments performed by the father of American gynecology on enslaved South Carolina women, author and historian Curtis Cost says they are probably are not aware of the routine medical barbarism against Africans that persists today.
Cost is the co-producer of a new and timely documentary that confronts the long-standing medical experimentation on minorities. "Medical Racism: The New Apartheid" is a collaborative work by Children's Health Defense (CHD), Centner Productions and the Urban Global Health Alliance. Directed by Academy Award-nominated filmmaker David Massey, the film chronicles the medical cartel's history of targeting minority populations for unethical experiments, the acquiescence of regulatory agencies and medical ethicists, and the silence by physicians that allows these atrocities to continue.
"Medical Racism" examines human experimentation on Black children by pharmaceutical companies and government health officials in South Central Los Angeles. It also exposes big pharma's medical experiments across the pond, in Africa, and the World Health Organization's 2014 tetanus vaccine campaign that was found to contain hidden chemicals (and that subsequently sterilized a million Kenyan girls).
"The high levels of medical mistrust in the Black community is a rational response to routine callousness and systemic savagery toward Blacks by medical professionals and pharmaceutical interests," said CHD Chairman Robert F. Kennedy, Jr. "Our hope in producing this film is to learn from the past misdeeds so we can avoid their future repetition."
Don't miss this timely and important documentary! "Medical Racism" will be released on March 11. You can sign up to watch at medicalracism.org. You can also learn more about how minorities have been used as human research subjects in the interview we did last fall with human rights champion Vera Sharav.