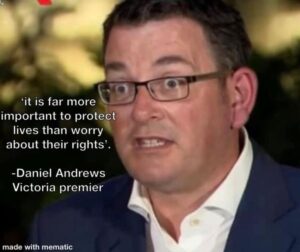 Cath Erin writes: If you don't find this disturbing then I think maybe you should look at why human rights correlate with health. He also delayed the enquiry into mental health damage caused! When you ignore rights, you are NOT protecting lives.
Decrease in human rights = increased morbidity and mortality (deaths). This is WHY guidelines that are WELL ESTABLISHED clearly outline the importance of maintaining the least disruption to society NO MATTER WHAT THE CIRCUMSTANCES!
For many it wasn't about "going to the shops"- that's ignorance and a classic tactic for YOU to turn ON THE VULNERABLE!