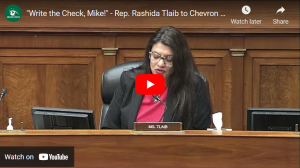 Over the last several years, Chevron sought to destroy the life of its nemesis, Steven Donziger, the human rights lawyer who helped win the over $9.5 billion judgement against the company. It failed. And while CEO Wirth, his fossil fuel mob lawyers at Gibson, Dunn & Crutcher, their corporate firm allies at Seward and Kissel, and corrupt judges Kaplan and Preska did succeed in forcing Donziger into jail, they have inadvertently handed the movement its biggest victory since the 2011 Ecuadorian decision was upheld by Ecuador's supreme court in 2013.
Yesterday, I stood outside the U.S. Capitol alongside Representatives Chuy Garcia, Rashida Tlaib, and Jim McGovern and we all shared the same message: there is a reckoning coming, and Chevron will be held accountable for its crimes. Joined by Amnesty International, Protect the Protest Task Force, Law Students for Climate Accountability, actor and activist Lucy Lawless, and members of the Ecuadorian community from New York, we demanded in unison that Attorney General Garland and President Biden comply with the decision of the United Nations Working Group on Arbitrary Detention and immediately release Steven Donziger.
Today, the House Oversight Committee heard testimony from the CEOs of the largest oil companies based in the U.S., including Chevron, as well as the American Petroleum Institute on their deadly climate change disinformation campaigns. Meanwhile Steven Donziger, a lawyer who helped win the largest environmental judgment in history, sits in prison and has been disbarred for his work. These things are directly connected. Those who challenge corporate power in the U.S. are at risk for their work, and those who are particularly successful will be targeted,  criminalized, and jailed.
As Rep. Rashida Tlaib stated at the Capitol: "Steven is supposed to report to prison today in what will go down as one of the gravest miscarriages of justice in American history. Chevron has been allowed to purchase our courts, and the White House and the Justice Department are silent."