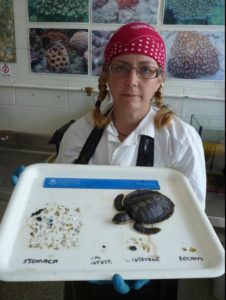 Dr Kathy Townsend from Turtles in Trouble with the debris extracted from a coastal sub-adult flat back turtle in Moreton Bay. Much of this was plastic bag remnants.
We are destroying all life on the planet!
We need to do more, faster to revert this scene.
Join the Plastic Pollution Revolution and help stop plastics entering our waterways.
I walk the park with my two dogs morning and night. Whenever I see a plastic bottle, coffee cup, burger, candy or fries wrapper I pick it up and put it in a bin.
I have been told I am an embarrassment, that it should be left to other people whose job it is to clean up rubbish.
I guess my priorities lie with the turtles rather than not being an embarrassment to some people. I am sure the turtles would not be embarrassed if they saw me picking up rubbish.