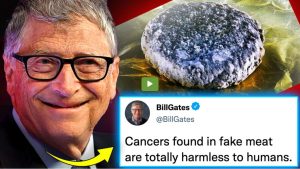 Bill Gates' lab-grown meat causes cancer in humans who consume it, according to a disturbing new study.
Synthetic meat has been heavily promoted by Bill Gates and the globalist elites at the WEF as the solution to so-called climate change. However, this fake food has now been shown to cause cancer via the immortalized cell lines used to manufacture it.
Not content with poisoning your heart with mRNA vaccines while he sends grandma to a death panel for being useless, Gates wants you to sit down at the dinner table to his repulsive tasting synthetic meat, which just so happens to riddle you with incurable cancers.
https://rumble.com/v2aoot6-bill-gates-lab-grown-meat-causes-cancer-in-humans.html