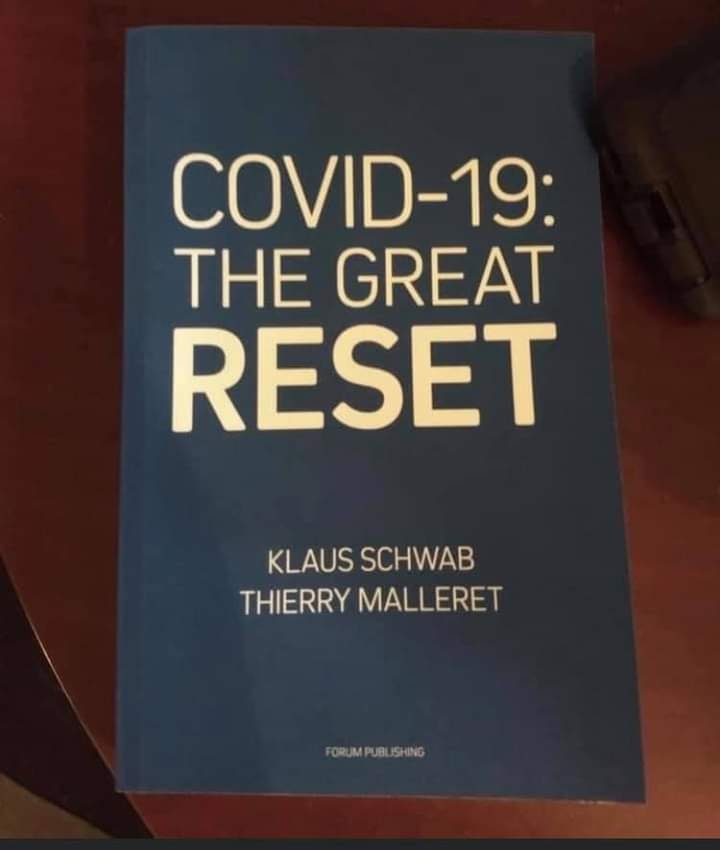 This book, by the founder of the World Economic Forum (the institution that partnered with the WHO to declare a pandemic of international concern in March, and is behind the call to impose lockdowns on the majority of the world's population) states openly that the virus itself is of little concern, and that lockdown measures will continue indefinitely to push through automation and digital technologies that benefit corporations at the expense of the poor and the third world.
The billionaires are not hiding that they benefit from the pandemic response while millions are being starved, deprived of their livelihoods, and kept apart from their families and communities.
The CDC and UN have stated openly that many more people have died or become ill, and will continue to do so, as a result of lockdown measures that have been affected by the virus itself.
Non-cooperation and saying I Do Not Consent are not going to stop this. The whole system that allows this violence to continue needs to be burned to the ground. The media, education, political, legal, banking, trade, medical and industrial systems all need to go.
An excerpt:
"In one form or another, social- and physical-distancing measures are likely to persist after the pandemic itself subsides, justifying the decision in many companies from different industries to accelerate automation.
After a while, the enduring concerns about technological unemployment will recede as societies emphasize the need to restructure the workplace in a way that minimizes close human contact.
Indeed, automation technologies are particularly well suited to a world in which human beings can't get too close to each other or are willing to reduce their interactions. Our lingering and possibly lasting fear of being infected with a virus (COVID-19 or another) will thus speed the relentless march of automation, particularly in the fields most susceptible to automation.
In 2016, two academics from Oxford University came to the conclusion that up to 86% of jobs in restaurants, 75% of jobs in retail and 59% of jobs in entertainment could be automatized by 2035.
These three industries are among those the hardest hit by the pandemic and in which automating for reasons of hygiene and cleanliness will be a necessity that in turn will further accelerate the transition towards more tech and more digital.
There is an additional phenomenon set to support the expansion of automation: when "economic distancing" might follow social distancing. As countries turn inward and global companies shorten their super-efficient but highly fragile supply chains, automation and robots that enable more local production, while keeping costs down, will be in great demand.
The process of automation was set in motion many years ago, but the critical issue once again relates to the accelerating pace of change and transition: the pandemic will fast-forward the adoption of automation in the workplace and the introduction of more robots in our personal and professional lives.
From the onset of the lockdowns, it became apparent that robots and AI were a "natural" alternative when human labour was not available. Furthermore, they were used whenever possible to reduce the health risks to human employees. At a time when physical distancing became an obligation, robots were deployed in places as different as warehouses, supermarkets and hospitals in a broad range of activities, from shelf scanning (an area in which AI has made tremendous forays) to cleaning and of course robotic delivery – a soon-to-be important component of healthcare supply chains that will in turn lead to the "contactless" delivery of groceries and other essentials.
As for many other technologies that were on the distant horizon in terms of adoption (like telemedicine), businesses, consumers and public authorities are now rushing to turbocharge the speed of adoption. "
This is from the Conclusion to the book, page 247.
"There is no denying that the COVID-19 virus has more often than not been a personal catastrophe for the millions affected by it, and for their families and communities. However, at a global level, if viewed in terms of the percentage of the global population affected, the corona crisis is (so far) one of the least deadly pandemics the world has experienced over the last 2000 years. In all likelihood, unless the pandemic evolves in an unforeseen way, the consequences of COVID-19 in terms of health and mortality will be mild compared to previous pandemics. At the end of June 2020, COVID-19 has killed less than 0.006% of the world population. To put this low figure into context, the Spanish flu killed 2.7% of the world's population and HIV/AIDS 0.6%"