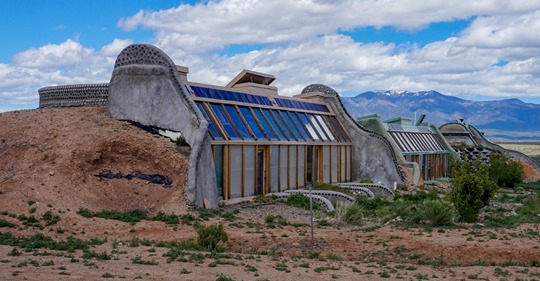 In Taos, a community of 'voluntary anarchists' is taking off-the-grid living to the next level
Just a few miles from where New Mexico's Route 64 crosses the Rio Grande, a collection of alien looking buildings stand out in the otherwise desolate landscape. These houses—79 in total—are built partially into their natural surroundings, each with a wall of windows facing directly south.
While the houses, with their rounded corners and colorful walls made of cans and bottles, may look more like spaceships than human dwellings, the opposite is true: The buildings are even called "earthships." Located just outside of Taos, this community—known as the Greater World Earthship Community—provides full-time housing to at least 130 people. Under the name Earthship Biotecture, it also hosts an academy in partnership with Western Colorado University, an internship program, and a visitor center open to the public.
Earthship Biotecture is almost completely self-sustainable—and it wants to teach you how to live off the grid, too.
https://roadtrippers.com/magazine/earthship-biotecture-off-grid-living/