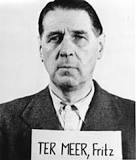 (This is interesting not only from the perspective of vaccines but also to understand Bayer's history given that it now owns Monsanto. And also how little jail time the mass murderers of WWII served.- Tom)
It's been only 70 years since World War II, and the mad scientists from companies like I.G. Farben, BASF, Hoechst, Dow and Bayer, who created the gas chambers and tested dangerous vaccines on innocent Jews, didn't just go away. In fact, they went to work for U.S. corporations and pharmaceutical companies that run the vaccine industry today. At least a dozen of these cold blooded killers were hired fresh out of prison, just 4 to 7 years after the Nuremberg trials found them guilty of mass murder and enslavement.
In fact, at the close of WWII, the IG Farben building in Frankfort was protected from allied bombings by the highest levels of military command. Why? IG Farben was the FDA/CDC type of "pharmaceutical arm" of Hitler's 4th Reich, and the Rockefellers had a financial interest in maintaining and controlling this pharmaceutical empire, which would soon be catapulted on U.S. soil. Research reveals that Hitler also invested heavily in Merck and other pharmaceutical companies.
Fritz ter Meer, found guilty of slavery and mass murder at Auschwitz, served only seven years in prison and became Chairman of the Board at Bayer in 1956. Still trust U.S. vaccines?
http://www.choiceandtruth.com/2016/08/how-a-nazi-mass-murderer-became-executive-for-vaccines-in-america.html