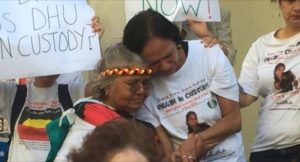 "I just dropped the phone and screamed."
These are the words of mum Helen Russell, talking about the enduring pain of losing a child – her son Eddie. Eddie was 19 when the Royal Commission into Aboriginal Deaths in Custody handed down 339 recommendations to stop Aboriginal people dying in jails and police watch-houses across this country.
Only a handful of these recommendations from the Royal Commission have been implemented.
Eddie didn't make it to 30. He was found dead in a cell in December 1999. He is one of more than 400 Aboriginal and Torres Strait Islander people who a groundbreaking Guardian investigation revealed have died in custody since the 1991 Royal Commission handed down its recommendations.1
In heartbreaking detail, the Guardian's investigation uncovers how these deaths were easily preventable, and in many cases the result of authorities failing to follow even their own procedures.
The incredible work of the Guardian and the fight of many families for their departed loved ones has created an opportunity for real change Can you join us in an overwhelming response to our Federal Government calling for the immediate implementation of an Independent Detention Monitor to prevent more deaths in custody?
The Guardian's investigation detailed the shocking disparity between the treatment of First Nations people compared to non-indigenous peoples in our prison system. Indigenous people get Panadol to treat a critical illness, are locked up for swearing, stripped naked, forced to the ground and suffocated to death.
Those in authority should AT LEAST be following their own rules! And if we don't stand up for that, there may come a time when it affects us far more personally.
https://www.getup.org.au/campaigns/aboriginal-and-torres-strait-islander/take-a-stand-against-deaths-in-custody/take-a-stand-against-deaths-in-custody