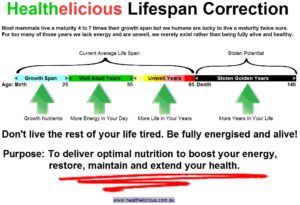 I must share with you the results of an experiment I have run on myself for the last 8 weeks.
In May I was preparing to leave my full-time day job as an analyst and take on a counselling course. This was going to be pretty intensive. From 9:30 am to 6:00 pm I would be giving or receiving counselling.
I did not want in any way, shape or form my mental accuity and energy level, or rather, lack of them, to be a hinderance to attaining the most gain in the shortest time. So I thought, why don't I take my nutrition up even futher from where it is and see what I can accomplish?
I resolved to start my day with a fruit smoothie with double the dose (20 grams) of my nutrition powder added and wash it it down with a fruit slice or chocolate and macadamia rocky road.
That would deliver at least 40% of the minimum daily requirement of over 20 vitamins and minerals.
For lunch I planned to have two of my bars and wash them down with a chocolate and macadamia rocky road or a chocolate and fruit slice.
The two bars would deliver at least 50% of the minimum daily requirement of over 20 vitamins and minerals.
That meant by 12:30 I would have ingested 90% or more of my minimum required nutritional intake.
If I needed it I would have a bar or a slice for afternoon tea. I planned to ead a "regular" meal for dinner.
I am surprised (and a little disappointed) to report that for the last 8 weeks I have been going at it hammer and tongs each day from 7:20 am and still not feeling tired until 11:00 pm!
The disappointmnet is that I thought my nutrition prior to starting this regime was adequate.
It obviously was not as what I am finding on this supercharged nutrient intake is that while I do get hungry through the day I am not at all tired antil at least bed-time.
So if you are at all tired before bed-time, my question to you is, "Are you prepared to experiment for 6 weeks by changing your diet to see if you can enjoy more energy and, potentially, better health?"
If the answer is "Yes!" head on over to www.healthelicious.com.au and stock up! If you want some guidance, give me a call on 02 9552 3311 after 7 of an evening when I am most likely to be free to talk.
Cheers!