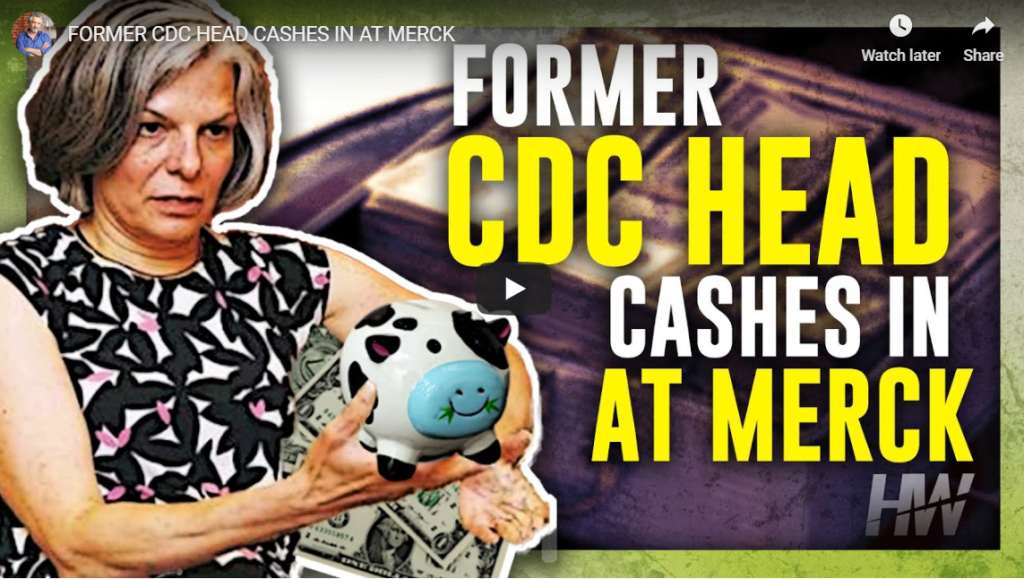 (Tom: The level of corruption is mind boggling and the destruction of lives for the people taking these vaccines in good faith is tragic!)
In January 2020, Dr. Julie Gerberding, former director of the U.S. Centers for Disease Control and Prevention, who after leaving the CDC became president of Merck's vaccine division, sold half her Merck stock options for $9.11 million.
Gerberding also cashed out in 2016, when she sold $5.1 million in Merck stocks, and 2015, when she made $2.3 million. In total, Gerberding has made $16,592,144 from her company stock options.
Gerberding's former high-level ties to the CDC likely has had enormous influence over Merck's financial growth, considering Merck makes a majority of the pediatric and adults vaccines recommended by the CDC.
Red flags have recently been raised about Merck's HPV vaccine Gardasil, a vaccine Gerberding promoted in a 2004 report to Congress before it was fast tracked to licensure in 2006. The U.K. recently reported a 54% rise in cervical cancer among 24- to 29-year-olds, the first generation to receive the HPV vaccine.
A January 2020 report in the Journal of the Royal Society of Medicine warns HPV vaccine trials have not been designed to detect whether the vaccine actually prevents cervical cancer. Trials have shown, however, that Gardasil raises the risk of cervical cancer by 44.6% among women with a current or previous HPV infection.