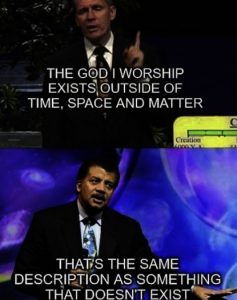 Simple Neil. How can you expect to define something outside the physical universe in the terms of the physical universe? One cannot define the Creator in the terms of his creation as He is senior to His creation.
If a spiritual being has no mass, no wavelength and no position in space and time unless he agrees to be so positioned he is indeed a "nothing" in the terms of the physical universe. And that is why it has been so easy to convince people that they do not exist as a spiritual being. Unless they experience being outside their body and able to perceive their body and the physical universe. Then it all of a sudden becomes very real to them. They gain an enormous amount of serenity, certainty and a calm stability
most
lack when they consider themselves a body.