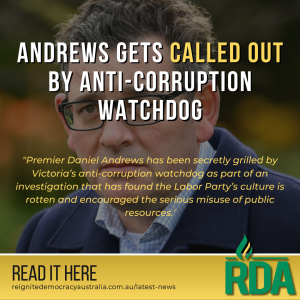 Premier Daniel Andrews has been secretly grilled by Victoria's anti-corruption watchdog as part of an investigation that has found the Labor Party's culture is rotten and encouraged the serious misuse of public resources.
The conclusions of Victoria's Independent Broad-based Anti-Corruption Commission will shake not only state Labor but the federal opposition, given that several federal Labor MPs and shadow ministers are key players in the factions that IBAC has identified as unethical.
The anti-corruption commission's interim findings – contained in a draft report of Operation Watts sighted by this masthead – reveal that Andrews is among senior Labor figures to have privately conceded that "significant cultural reform is required within the ALP" to rid the party of a culture that encouraged the misuse of public funds, nepotism and other wrongdoing.
https://www.reignitedemocracyaustralia.com.au/anti-corruption-andrews
How to Take Back Control Of Australia!
The Liberal/Nationals/Labor/Greens have sold us out.
Voting for the major parties will just get more of the same insanity.
Doing the same thing over and over again and expecting a different result is insane. This election, be more sane. Vote different.
One person recently recommended we all place the sitting member last. Which is a good, simple idea but here's a more powerful one to make your vote really count.
This is a great example describing preferential voting.