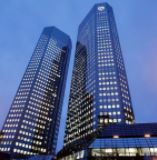 Deutsche Bank, along with several of the world's biggest commercial banks, are embroiled in a global money laundering scandal that spans over two decades, as documents leaked to BuzzFeed show the movement of $2 Trillion in illicit cash through the Western banking establishment.
Absent from most coverage of the FinCEN leaks, however, is how all of these banks and financial institutions are not only laundering trillions, but are doing so together and in consort with each other, as is plainly demonstrated in the 1MDB fraud case. Most publications point the finger at JP Morgan Chase as the entity that moved more than $1 Billion for Jho Low, one of the 1MDB's central figures, but they fail to mention the role of Goldman Sachs, which orchestrated a significant part of the scheme that defrauded the Malaysian people and led to criminal charges against 17 of its current and former executives, including Goldman Sachs former vice-chairman and now president of Chinese mega eCommerce platform Alibaba, Michael Evans.
The Malaysian government recently agreed to drop charges against Goldman Sachs after a $2.5 Billion-dollar settlement was reached with the giant investment bank; nearly a fourth of the $10.5 billion-dollar debt hole it created for Malaysia's ruling coalition, resulting in the cancelation of major infrastructure projects. Deutsche Bank was also involved in the multi-pronged attack of the Western financial vultures on the Malay through the provision of hundreds of millions in stock-buy-back loans through the 1MDB fund for the former prime minister, who was convicted in July of graft.
It is reported that former Goldman Sachs CEO, Lloyd Blankfein, met with the disgraced Malaysian PM and the fugitive businessman, Jho Low, before the fund's debut in 2009. Another lawsuit brought against Goldman Sachs details the investment bank's "central role in a long-running effort to corrupt former executives" of An Abu Dhabi wealth fund called International Petroleum Investment Corporation and its subsidiary, Aabar Investments, which partnered with the 1MDB, calling it "a massive, international conspiracy to embezzle billions of dollars."
Few can argue with that characterization, but as the chickens come home to roost, it is important to keep an eye on who gets exposed and who doesn't; who gets punished and who doesn't. The FinCEN Files are meant to draw most of the attention to Deutsche Bank and has all the hallmarks of a premeditated hit on one of the lynchpins of the prevailing financial structure. Much like Lehman Brothers and Bear Sterns were sacrificed for the subprime mortgage crisis and opened the door for even greater consolidation among the "too-big-to-fail" banks, a calculated take-down of Deutsch Bank will, no doubt, allow for a similar consolidation to occur at a far larger scale.