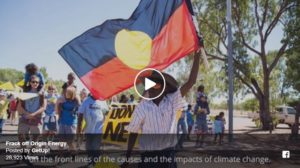 A group of Traditional Owners travelled 3,000 kilometres from the NT to Sydney to speak out against Origin Energy's fracking plans at the company's AGM. For some, this was their first trip outside the Territory, and even their first trip on a plane.
Traditional Owners did this because they are extremely worried about Origin's fracking plans. Now that the NT Government has lifted its moratorium on fracking, shale gas exploration seems imminent. But instead of backing down, Traditional Owners had some tough asks for Origin Chairman Gordon Cairns. And they got him to come clean.
It became clear at the AGM that Origin has failed to reveal the scale and risks of its shale gas field proposal. Now that we have this admission, we need to mobilise to stop Origin, and give Traditional Owners the final say on what happens to their land.