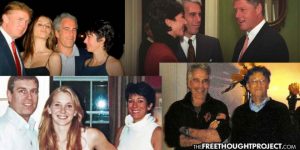 Like the federal case, the NY Times article stopped short of inquiring about any of the other clients besides Epstein, facilitating a massive miscarriage of justice and a kick in the teeth to the dozens of child victims abused by global elite visiting Epstein's child rape island on the Lolita Express.
As of yet, the only person on that client list to be named publicly — subsequently paying out millions of dollars to an alleged victim — is Prince Andrew, who is not a US citizen.
Andrew was sued for the sexual assault of Virginia Giuffre, a girl trafficked by Epstein and Maxwell while she was under the age of consent. The case was settled out of court in February, with Andrew making a "substantial donation" to Giuffre's charity supporting the rights of victims of sexual abuse.
But hundreds of other public figures, ranging from Hollywood actors and musicians to high-profile politicians, are known to have associated with Epstein, including former president Bill Clinton, who flew on the financier's plane, the 'Lolita Express', to his private island at least 26 times, as well as Donald Trump, Bill Gates, former Senator John Glenn, former Senate Majority Leader George Mitchell, actors Kevin Spacey and Chris Tucker and violinist Itzhak Perlman, who are also reported to have made the same trip.
https://thefreethoughtproject.com/feds-recommend-30-years-for-ghislaine-maxwell-as-all-of-her-politician-billionaire-clients-walk-free